IQ Option Binary Broker Review 2017 – Full Scam Check & Reviews
IQ Option Reviews
Name: IQ Option Reviews
Description: In the IQ Option review, we carefully go through the main aspects of the platform to find out if it's safe for online traders.
Summary
In short, IQ Option is not a scam. Broker activities are being monitored by third party financial institutions and there's no reason for concern. Based on the information available it's safe for binary option traders and if you'd like to know more about it keep reading further.
Comments Rating
( reviews)
Enough rumors! Is IQ Option a scam? Read IQ Option review to find out who's behind the broker, what bonus can you get and if it's safe for trading? We'll cover things like trading platform, regulation, bonus offers, demo accounts, withdrawal, legislation, scam check and more. Keep reading to find out more.
IQ Option has received numerous awards and paid out more than $5.7 million a month to their traders. This is being achieved by working with traders from 178 countries worldwide. Nominated as the most reliable broker of the industry, more than 11 million traders and growing, executing more than 1,5 million trades per day and so forth. But is it safe to trade with IQ Option? In the IQ Option review, we carefully go through the main aspects of the platform to find out if it's safe for online traders.
IQ Option Trading Platform Example (Video)
Company
Iqoption Europe Ltd
Account Currencies
BRL, EUR, GBP, IDR, MYR, RUB, TRY, USD
Standard High/Low Options Profitability
Up to 90%
Refund if Out of the Money
0%
Maximum Daily Deposit
$/€/£ 1,000,000
Deposit Options
VISA, MasterCard, bank wire, WebMoney, Skrill (MoneyBookers), Neteller and much more.
IQ Option Pros
The #1 broker. IQ Option is growing very quickly, and it's the #1 choice among binary options traders today.
Low deposit. The minimum deposit to open a real trading account is only $10. This is the lowest deposit offer available in the market today.
Regulated. The company (Iqoption Europe Ltd) is regulated by Cyprus Securities and Exchange Commission (Lic. No. 247/14).
Free mobile trading app. Stay on the track wherever you are because there's an app available on both platforms: Android and iOS. Recently the company also introduced an app for Linux and Mac.
24/7 support. Support is always available so you don't have to worry about your account or if you need assistance during the trading process.
Transparency. IQ Option is the only broker in the market that has a very transparent fee structure, and you can see their business model on their website.
High returns. Up to 91% return from standard High/Low binary options if a trade ends 'in the money'. This is a very good return comparing to other brokers in the market.
Free demo account. Demo accounts are available for anyone who wants to try binary options trading online. There are no deposits required to open a demo account.
Free trading robot. The feature is called IQ Option Robot. Traders can create their own trading robots that invest based on predetermined rules. You can also subscribe to other trader trading robots and automatically copy their trades.
Free educational materials. Every week there's a seminar to teach you how to trade, learn from video tutorials, read eBooks, etc.
Historical Quotes. Check any asset price in the past. You can also test your strategy to find out how it would have worked if you were to use it in the past.
IQ Option Cons
A small number of commodities. In the platform, there's only one commodity available at this time – gold.
Some countries are restricted. Traders from the USA, Canada, Australia, Belgium, Russian Federation, Japan, Turkey, Israel, Iran, Syria, and Sudan are not accepted.
No Early Close function. If you decide that you want to close your position quicker than the expiration time, there's no such option in the platform.
0% out of the money return. No refund on trades that end 'out of the money' for standard High/Low binary options.
IQ Option Review – Trading Platform
The platform is very straightforward and easy to use. An updated interface system makes it interesting, functional and more comfortable. IQ Option has created a platform in-house, and they've even received several rewards:
Best trading platform – Forex Awards 2014
Most innovative binary options platform – IFM Awards 2015
Best mobile trading platform – IFM Awards 2015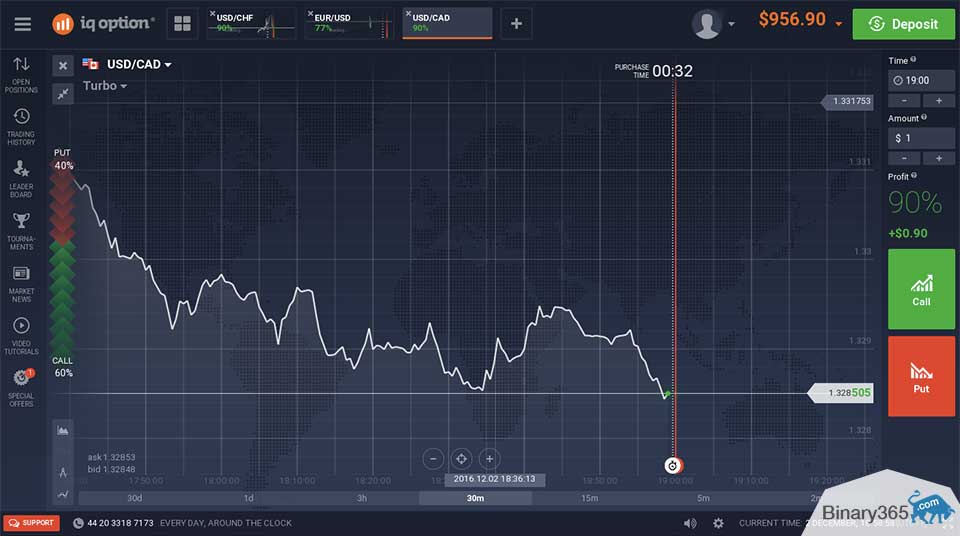 Traders can also check historical quotes, which is not popular with other brokers but may come very handy if you'd like to see how your strategy would have performed in the past to make better decisions in the future.
The minimum trade is $1 and the maximum trade is set to $5,000.
Trading Platform and Option Types
Very few brokers in the market can offer their platform. Mostly brokers use platforms that are created by third party companies. IQ Option is one of the few that can offer advanced and feature rich platform to their users. It helps the company to work closely with their clients and make improvements based on trader needs. Having won many awards for being one of the best platforms in the market, the company keeps adding features and innovations that can help traders to achieve better results. The platform differentiates from others for having a better selection of features, i.e. availability to zoom in/out graphs, flexible layout, possibility to draw your lines in graphs and more.
On IQ Option trading platform you can find the following option types:
Binary – Expiration time from 15 minutes to End of the month
Turbo – Expiration time less than 5 minutes
Longterm – Expiration time one month
IQ Option Account Types
Demo – anyone can open a demo account without a deposit. Some brokers require to deposit at least the minimum amount, but this is not the case here. All you need to do is to register, and you can start playing around with your demo account. Demo account balance is usually set to $1,000, but if you run out of demo funds, there's an option to refill the account.
Real money account – start a real money account from as low as $10. This is the lowest requirement in the industry, and you won't find many brokers who come even close to this. Withdrawals usually take up to 3 business days.
VIP account – to get a VIP status, you'll need to deposit at least $3,000. Also VIP account holders receive higher returns from trades. Such trades can generate up to 89%. Get a personal manager; get access to many training materials and more. This is a great choice if you've decided to go serious about binary options trading and have funds to do that because together with a personal manager you should be able to learn quicker. Withdrawals are taking approximately 24 hours.
IQ Option Promotions
To attract more users, IQ Option has created a platform where traders can apply for various tournaments and win real money prizes. Entry fees are usually very small – typically from $4 to $50 and prize pool may reach even $50,000 (up to $100,000 for VIP account holders).
How to Get an IQ Option Demo Account?
Demo accounts are free and no deposit is required to try the platform. You can get an account with $1,000 to play around and to get to know the platform. If you manage to spend it all, it's possible to top up the account with more demo funds if needed. Get used to the platform, test your trading strategy and begin trading in the real money account.
Languages
Currently the broker has traders from 178 countries but the platform is available in the following languages:
Arabic
English
Portuguese
Turkish
German
French
Indonesian
Spanish
Russian
Italian
Korean
Swedish
Chinese
Mobile Applications
Both the most popular platforms are covered and you can find apps for iOS and Android below:
Available Asset List
Currency Pairs
Stocks
Indices
Commodities
AUD/CAD
AUD/JPY
AUD/USD
CAD/CHF
CHF/JPY
EUR/AUD
EUR/CADY
EUR/GBP
EUR/JPY
EUR/NZD
EUR/RUB
EUR/USD
GBP/AUD
GBP/CAD
GBP/CHF
GBP/JPY
GBP/USD
NZD/USD
USD/CAD
USD/CHF
USD/JPY
USD/NOK
USD/RUB
USD/SEK
USD/TRY
AIG
Alibaba
Allianz
Amazon
Apple
Avtovaz
Baidu
Banco
Santander
Bank of America
Bank of China
Barclays
BBVA
Beiersdorf AG
BMW
Boeing
British
Petroleum
Chevron
China Bak Battery
China Mobile
Cisco Systems
Citigroup
Coca Cola
Commerzbank
Daimler AG
Deutsche bank
E.ON
Facebook
Ferrari
Fiat
Ford
Gazprom
General Electric
General Motors
Google
Hang Seng
HSBC
Hypermarcas
ICBC
Intel
Itau
Uni-Banco Holdings
JP Morgan
Chase
Lohas Renner
Lufthansa
Luxottica Group
McDonalds
Microsoft
Mitsubishi
Morgan Sachs
Morgan Stanley
Natural Gas
Nike
Nintendo
Orange
Petrochina
Pfizer
Ping AN Insurance
Qualcomm
RBS
Rosneft
Rostelekom
Sberbank
Societe Generale
Sony
Tesla
Toyota
Twitter Inc.
Unicredit
Verizon
Vodafone
WAL-MART
Yahoo
Yandex
SMI
SP/ASX200
SSE Index
TOPIX500
Bitcoin Index
CAC40 (France)
DAX 30
Dow Jones
30 DX (Dollar Index)
FTSE 100 (UK)
Nasdaq 100
Nikkei 225
S&P 500
Is IQ Option a scam?
IQ OptionRegulation
Binary options brokers must be regulated by various independent institutions to consider a broker platform safe to use. IQ Option (Iqoption Europe Ltd) is regulated by CySEC (Cyprus Securities and Exchange Commission), licence no. 247/14.
The company's financial services have also been monitored and registered in such countries:
United Kingdom – Financial Conduct Authority (FCA)
Italy – Commissione Nazionale per le Società e la Borsa (CONSOB)
Spain – Comisión Nacional del Mercado de Valores, CNMV
Germany – Bundesanstalt für Finanzdienstleistungsaufsicht, BaFin
France, Monaco – Regafi
Netherlands – Autoriteit Financiële Markten (AFM)
Estonia – Finantsinspektsioon
Based on heavy regulations and being registered in multiple official registers that monitor financial activities, there's no reason to think that the company is a scam.
IQOption.com Domain Owner Information
In IQ Option review we also try to identify the real owner of web assets owned by a broker. Unfortunately, information about the domain owner is not available.
IQ Option Awards
Best trading platform – Forex Awards 2014
World's leading binary options broker – MasterForex-V
Most reliable binary options broker – MasterForex-V
Most innovative binary options broker – Show FX World
Best binary options broker – FX Report Awards
Best binary options broker and best binary options broker/trading application – IAIR Awards
Best binary options broker Europe 2015 – Global Banking & Finance Review
Most innovative binary options platform – IFM Awards 2015
Best mobile trading platform – IFM Awards 2015
Fastest growing binary options brand – Global Brands Magazine
IQ Option Withdrawal/Deposit
IQ Option supports – VISA, MasterCard, CashU, WebMoney, Qiwi, Wire Transfer, Skrill, Fasapay, Neteller, LaCaixa, Santander, BBVA, Boleto, and various online payments.
There are no hidden fees. Withdrawals are free, and there are also no limits for a minimum withdrawal amount. To withdraw funds, as with every broker, you'll need to provide your personal data to withdraw funds (only for the first time to verify the personality – standard practice in the industry).
What else should you know about IQ Option? 
If you're not using your account for more than 90 days in a row, the broker is going to begin charging you $50 per year as a maintenance fee.
If you want to terminate the agreement, you should notice the broker 15 days before – a written notice.
Trader reviews and complaints are available in the comments section.
Information found on IQ Option review is combined by using various online sources such as broker website, Internet Archive, scam check solutions and more. We strive to provide you with the best information available, so if you have anything to say, please use the contact form below.